Try the Top Photo Editing Software Now and Download for Free
If you're looking for
best photo editing software for beginners
that is suitable for professionals too, you'll be pleased to know that it offers a variety of effects such as adding text or frames to your photos. The range of available programs is vast, and often you'll come across freeware programs included in PC magazine CDs. It's a good idea to test and download free programs to find the right image editing tool for your needs. This way, you can conveniently try out different photo editing features before making a purchase decision.
Before choosing a software, it's important to have a clear understanding of your requirements. Do you need
very easy photo editing software
with basic functions, or do you require a professional program with advanced features that require more expertise? If you're interested in effects like beveling pictures or adding frames, you can test them out with our software. We offer a program that you can download and try out indefinitely.
When downloading a program, it's wise to consider the specific purpose and the functions you require. Are photo effects such as color adjustment and noise reduction important to you? You can download and test our Windows software for free. Give it a try and see for yourself! Our software can be used as a Windows 10 photo editing software for free download, an image editing software, a photo montage program, or to create photo montages.
Improve Your Images by a Lot with the Photo Editing Software for PC
This best free photo editing software for beginners comes with a lot of useful features.
Common terms associated with image editing include symbols, gradation, scaling, and tonal correction. These programs specialize in bitmap graphics and are used to manipulate digital photos. However, it's worth noting that photo editing programs can also be used as photo editing tools. Image editors often search the internet for suitable programs. Our helpful photo program is designed for both inexperienced users and professionals, offering features like blurring images and removing red-eye effects. Some of these apps have advanced and refined image editing features, while others may be more cluttered or unfamiliar.
Occasionally, you may come across freeware programs on PC magazine websites. If you're researching the internet for a photo editing tool, it's worthwhile to download free programs. When downloading a program, consider your specific needs for the easy photo editing software. Are you interested in features like resizing photos or applying various effects? Find out if our software meets your expectations by downloading and trying it out.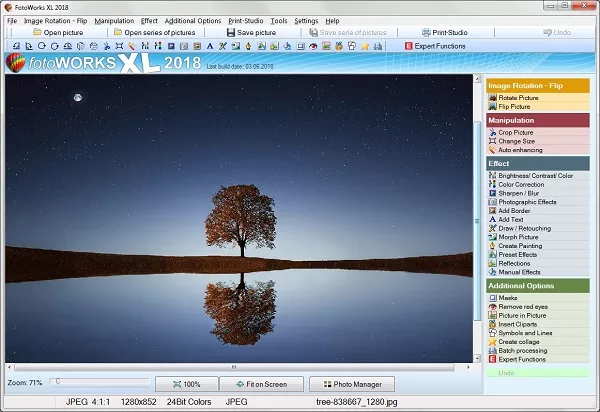 Photo showing the Photo Editing Software Download
Our helpful Windows software was specifically created for amateur photographers who value a good software solution that is easy to use but also offers a wide range of functions. It's an ideal choice for both inexperienced and experienced users. Take advantage of the user-friendly graphics software when editing your images. Our lightweight imaging software is designed for beginners and includes features like cropping images and adjusting photo colors. There are numerous applications available for download on the internet that offer effects like adding text to photos or darkening images. You'll often find free programs on websites dedicated to personal computers. We recommend downloading a free application when searching for software, as it allows you to explore all the photo editing functions before making a purchase.
For those who prioritize convenience, our software offers a streamlined workflow, allowing you to edit your images efficiently. With features like batch processing, you can apply edits to multiple photos simultaneously, saving you time and effort. Additionally, our software supports various file formats, ensuring compatibility with your existing photo library.
This very easy photo editing software is so user-friendly that most people should be able to handle it immediately!
During my search for a new image editing software, I came across this software solution. It's specifically designed for individuals who prefer an easy-to-use app for image correction on their Windows computer. It's simple to learn, yet offers a wide range of features, making it an ideal choice for both beginners and more experienced users. One notable advantage is its compact menu structure, which appeals to both younger and older users who want to manipulate their photographs.
The
photo editing software FotoWorks XL 2
allows you to adjust the size and scale of your images. It also offers various tools for enhancing and modifying your photos.
We understand that photo editing is a continuous learning process, and our software aims to support your growth and development. Through experimentation and exploration, you'll discover new techniques and refine your skills. Our software provides a platform for you to experiment with different effects, styles, and compositions, helping you expand your creative horizons.
Improve photos with the new photo editing software
Understanding digital photography principles is essential as they provide a foundation for more advanced photography techniques and skills in the future. There are many purposes for which people might use photo editing software for Windows 11, including included features like image retouching, color correction, and artistic effects. Before diving into photography, it's crucial to familiarize yourself with the rules and techniques to have better control over your shots. A poorly exposed or blurry image may seem worthless, but a well-composed one can still be salvaged. The process of capturing and editing photos is an exciting and creative journey with the help of software for Windows 10.
Sometimes, you may encounter challenges with excessive highlights and shadows in your photos. This is a common occurrence that can be addressed using the right tools. Before even picking up your camera, equip yourself with the perfect
photo editing software for Windows 10
to increase your chances of success.
Whether you're looking to make subtle adjustments or create striking visual transformations, our software offers the versatility and functionality you need. Download our software today and unlock the potential of your digital images. Elevate your photography and unleash your artistic vision with our powerful and user-friendly photo editing tools.
Photo Editing Software for Windows 10 and Professionals
Explore your photos using our excellent photo editing software for Windows 10, which enables you to enhance your images using a wide range of photographic techniques. The more mistakes you make, the faster you'll learn and improve your photography skills. Our software doesn't restrict you to specific folder layouts for storing your edited photos. The real value lies in experimenting and learning from your mistakes, which ultimately contribute to your professional growth. Adjusting foreground elements with the help of software can be as simple as moving an object or changing its position.
In summary,
best free photo editing software for beginners
offers a comprehensive set of features and tools that cater to both beginners and experienced users. It provides a user-friendly experience, allowing you to unleash your creativity while enhancing your photos. Take advantage of the various effects and functionalities offered by the software to achieve the desired results. Download our software and embark on a journey of transforming your ordinary photos into stunning visual masterpieces.
Whether you're an amateur photographer or a seasoned professional, our
photo editing software for beginners
is designed to meet your needs. It offers a wide range of features and functions that allow you to enhance, retouch, and transform your images with ease. From basic adjustments like cropping and color correction to advanced artistic effects and manipulations, our software provides you with the tools necessary to bring your creative vision to life.
One of the advantages of our software is its user-friendly interface, making it accessible to users of all skill levels. Whether you're just starting out or have years of experience, you'll find our software intuitive and easy to navigate. The compact menu structure ensures that you can quickly locate and utilize the editing tools you need, without getting overwhelmed by excessive options.